Wat is er nou leuker dan met je familie of vrienden samen te zijn en ondertussen te proeven van lekker eten?
Geen stress over wat te koken en de boodschappen, gewoon  aanschuiven en je door ons laten verwennen met allerlei gerechten en smaken.
Afhankelijk van het tijdstip waarop je wil komen, heet het een brunch of een lunch, de gerechten die we serveren zijn gelijk. Je krijgt verschillende schalen met heerlijke warme en koude hapjes, om op je gemak van te genieten. Geen traditionele gangen, maar in een huiselijke sfeer kiezen uit een tafel vol lekkernijen. 
Wat kun je verwachten? Een klein tipje van de sluier: verwarmende uiensoep met een drupje kruidenbitter, brood met verrassende dipjes, een stoofschoteltje, groentegerechtjes en nog veel meer. Als afsluiter een combinatie van zoete gerechtjes.
Zoals je van ons gewend bent is alles huisgemaakt van biologische en lokale ingrediënten. 
Natuurlijk kan ook alles plantaardig bereid worden. Heb je andere eetwensen? Geef het tijdig aan ons door, dan houden we daar graag rekening mee.
Wil je komen brunchen of lunchen, dan kun je een tafel reserveren vanaf 11.00 u.
Wil je deze dag ook nog even in beweging komen, dan start of eindig je met een verfrissende kerstwandeling in De Pannenhoef. 
We kijken er naar uit je te mogen ontvangen! 
Wil je meer weten of reserveren? Neem contact op via ons contactformulier of per mail aan info@natuurlekker.nl.
Uitgebreide kerstbrunch of kerstlunch € 24,50 per persoon
Bij een eventuele lockdown komt uw reservering te vervallen.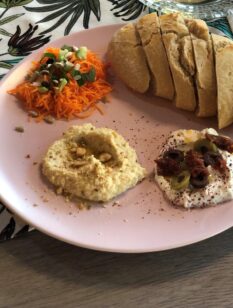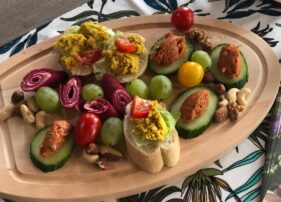 Wil je meer weten over of reserveren voor een high tea, lunch, bijeenkomst, vergadering of catering? Via onderstaande knop kun je contact met ons opnemen.