Vergaderen
Natuurlijk genieten!
Binnenkort een vergadering maar geen locatie? Geen probleem! Natuurlekker is ook te reserveren als vergaderruimte voor maximaal 14 personen in vergaderopstelling. Een beamer is aanwezig. 
In het standaard arrangement is koffie/thee en ontvangst met huisgemaakte taart inbegrepen.
Natuurlijk kunnen we ook een lunch verzorgen. Zoals een kop soep met belegde broodjes. Of een uitgebreidere lunch met bijvoorbeeld salade, wraps en een warm gerecht.  Met speciale eetwensen houden we graag rekening.
Stuur een berichtje om de tarieven te ontvangen.
Het zakelijke gedeelte aanvulling met een leuke informele activiteit? Wij doen graag een suggestie. Informeer vrijblijvend naar de mogelijkheden.
Reserveren kan via info@natuurlekker.nl of ons contactformulier.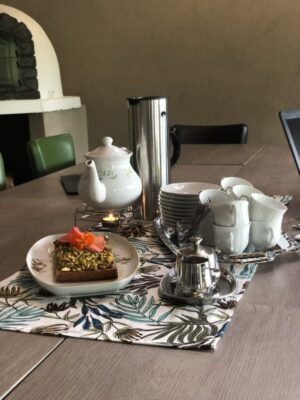 Wil je meer weten over of reserveren voor een high tea, lunch, bijeenkomst, vergadering of catering? Via onderstaande knop kun je contact met ons opnemen.