We bakken met natuurlijke ingrediënten, al het lekkers is daarmee net even gezonder dan regulier. Koken doen we liefst vegetarisch, met groenten in de hoofdrol. De producten die we gebruiken zijn biologisch of lokaal. Kortom, puur en eerlijk eten, waarmee we Natuurlekker op de kaart willen zetten.
Wil je wat lekkers bij je koffie of thee, dan kun je kiezen uit verschillende huisgemaakte lekkernijen. Waaronder ook plantaardige opties.
Kun je niet kiezen? Neem dan de Natuurlekkere Trek, een proeverij van de verschillende baksels uit het assortiment.
De lunchkaart is niet uitgebreid, maar de gerechten zijn wel creatief, erg lekker en vers bereid, met ingrediënten die passen bij de seizoenen. Bestel een goed gevulde soep met een vers gebakken broodje. Of kies voor het Kijkje in de Keuken; een wekelijks wisselende combinatie van hartige lunchgerechtjes. Dit lunchmenu is er ook altijd in een plantaardige versie.
Klik hier om het hele menu te bekijken.
 High tea
Bij een theeschenkerij hoort natuurlijk een high tea.
Een mooie selectie van zoete en hartige hapjes. Daarbij onbeperkt thee naar keuze. Neem ruim de tijd om in alle rust ervan te kunnen genieten.  De high tea is vegetarisch, maar zo lekker dat het je waarschijnlijk niet eens opvalt.
Wil je de high tea veganistisch? Dat is geen probleem, laat het weten bij reservering.
High tea kunnen we alleen op reservering verzorgen. Dit kan via info@natuurlekker.nl. 
Pizza's bakken
Voor meer info over zelf pizza's bakken en eten, klik
hier
. 
Heb je speciale eetwensen? Laat het ons weten, wij houden er graag rekening mee.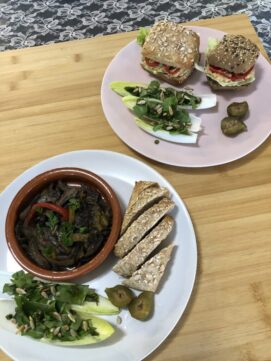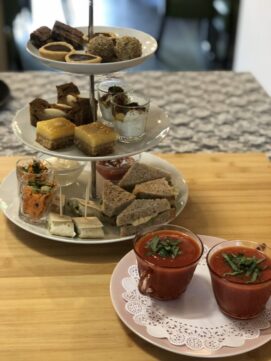 Wil je meer weten over of reserveren voor een high tea, lunch, bijeenkomst, vergadering of catering? Via onderstaande knop kun je contact met ons opnemen.