Pizza eten?
Doe het lekker zelf
Het is superleuk om zelf je pizza's te maken. Lekker samen bezig zijn. Ben jij de eerste die het gaat proberen, of kijk je eerst de kunst af van je tafelgenoten?  Reserveren kan al voor een gezelschap vanaf 6 personen. 
De houtoven wordt voor je opgestookt tot 400ºC. Wij zorgen voor het deeg, zelfgemaakte tomatensaus en vanalles voor de topping. Jij rolt je deeg uit, belegt je pizza met wat jij lekker vindt. Lukt het je om de pizza op de schieter te krijgen en in de oven te schuiven? Een minuut bakken en je pizza is klaar. En wil je er daarna nog één, dan ga je gewoon weer aan de slag. 
Wij zijn in de buurt om je te voorzien van tips en begeleiding.
Alle ingrediënten zijn natuurlijk biologisch. 
Of je maakt er een gezellig dagje van. Start bij Natuurlekker met een kop thee of koffie en iets lekkers, daarna een stevige wandeling om bij terugkeer een heerlijke zelfgebakken pizza te eten. 
Ook leuk voor een teamuitje! 
Wil je meer weten of reserveren? Neem contact op via ons contactformulier of per mail aan info@natuurlekker.nl.
€ 14,50 p.p. voor vegetarische of vegan pizza's
Wil je er graag vlees of vis bij, dan betaal je € 17,50 p.p.
Glutenvrij + € 2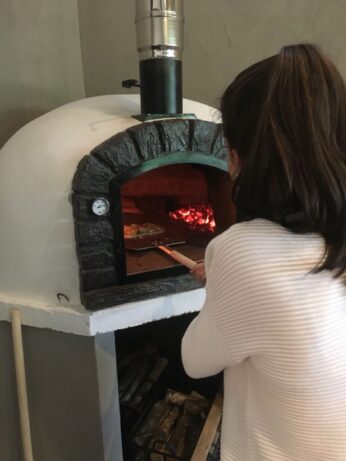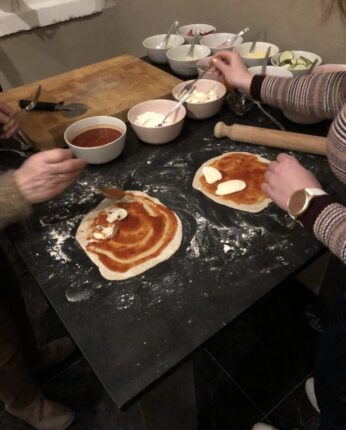 Wil je meer weten over of reserveren voor een high tea, lunch, bijeenkomst, vergadering of catering? Via onderstaande knop kun je contact met ons opnemen.